Our Vision
By 2030 we will be well-known for creating educational experiences that reach at least twice as many people as we do today. We will stand together to lead, act and inspire change in our communities to help build a more just and peaceful world.
Todd Watkins
Chairman – 2016 term ending 2019
Todd is a Partner in J.S. Watkins Partners, a commercial real estate investment banking and consulting firm based in Bethesda, MD. He is a graduate of Harvard College and the University of Michigan Law School.
A member of the Board of Directors since 2013, Todd currently serves as Chairman of the Board of CISV USA. Prior to his election to the Board, he was the Trustee for the Washington, DC chapter of CISV and served as the chair of the Corporate Governance Task Force. As Chairman, he is an ex officio member of all of the Board's committees.
Originally from Philadelphia, Todd participated in CISV programs from there in the 1980's. Currently, a member of the Washington, DC chapter, he has served as vice president of the chapter board and was involved in delegate and leader selection. Todd resides in Washington, DC with his wife, Julie, and their two daughters.
Lauren Kelly Herbstritt
International Representative – 2016 term ending 2019
Lauren is Director of Annual Giving and Alumni Affairs for the University of Tennessee College of Law. She is a graduate of Middle Tennessee State University and the University of Tennessee, Knoxville.
A member of the Board of Directors since 2013, Lauren currently serves on the Finance and Education Committees. Prior to her election to the Board, she served as a presidential appointee to the Executive Committee.
Active in CISV since she first applied for village in 1992, Lauren is a member of the Smoky Mountain chapter where she has served as Chapter President, JB Advisor, Membership Chair, and Merchandise Chair (luckily, not all at once). She lives in Knoxville with her husband, Chris.
Chip Workman
Treasurer – 2016 term ending 2019
Chip is President and Shareholder at The Asset Advisory Group, a registered investment advisory firm in Cincinnati, OH. He's earned the Certified Financial Planner designation, a MBA in Finance from the Williams College of Business at Xavier University and his bachelor's degree at Miami University.
A member of the Board of Directors since 2013, Chip serves as the Treasurer of CISV USA and the chair of the Board's Finance Committee. He has been affiliated with CISV since he went to Village in 1990, participating in multiple programs and board positions on both the chapter and national level along the way.
Outside of his work and CISV, Chip is involved with several other boards and organizations in Cincinnati and its surrounding neighborhoods. He and his wife, Abby, spend their free time raising their two daughters and supporting various philanthropic and community efforts.
Amanda Stegner
2017 term ending 2020
Amanda works at the public library in Dearborn, Michigan. She is a graduate of Smith College.
A member of the Board of Directors since 2013, Amanda currently serves as the International Representative and chairs the Education Committee.
Active in CISV since 2007, Amanda is a member of the Detroit Chapter where she has staffed and directed programs and currently serves as a Co-Advisor of the Junior Branch. She has also led delegations to Italy, Guatemala, Germany, Finland, Norway and France. Amanda lives in Dearborn, MI
Rachel Buff
2017 term ending 2019
Rachel Buff is a current J.D. candidate at the University of Michigan Law School.  She is also a recent graduate of the University of Pennsylvania, where she studied Political Science and International Relations. Prior to law school, she worked for two years on the consulting team at The Swedish Trade and Invest Council in New York.
Rachel has been actively involved in CISV and Junior Branch since the age of thirteen. She has served as JB President for the Jacksonville chapter, as a member of the National Junior Board of Trustees and the National Mini Camp Committee, as the Executive Youth Trustee for CISV USA, and most recently, as a National Junior Representative for JB USA. Her involvement with the organization has taken her to programs and meetings in Germany, Sweden, Canada, Norway, Mexico, Colombia, Brazil, France, and Austria. Rachel found her home in JB USA, and believes that Junior Branch is the heart and soul of the organization.
Reelected to the Board of Directors in 2017, Rachel serves as the Junior Branch representative, or JB Director. She sits on the Education Committee, the Finance Committee, and the Organizational Development Committee.
John C. "Christian" Warner
2015 term ending 2018
Christian Warner is a political appointee in the Obama administration, where he serves as a Special Assistant to the Secretary of Transportation. He is a graduate of the University of Wisconsin-Madison, where he was a Powers-Knapp Scholar, double majoring in Political Science and International Studies, with specific focuses in International Relations and Global Security.
A member of the Board of Directors since 2013, Christian previously served as the Junior Branch representative on the Board. Currently, he serves on the Education, Organizational Development and Finance Committees of the board. Prior to his election, Christian served one term on the National Youth Committee and was the Chair of the National Mini Camp Committee in 2012.
Christian has been actively involved with CISV from an early age, attending programs in Copenhagen, Denmark; Campinas, Brazil; San Jose, Costa Rica, Geneva, Switzerland, and Dąbrowa Górnicza, Poland. Originally from Birmingham, Michigan, Christian currently resides in Washington, D.C.
Tait Anberg
2017 term ending 2020
Tait is an elementary public school teacher in Atlanta, GA. He is a graduate of the University of San Francisco where he earned his bachelor and master of arts degrees. Tait received his teaching certification from Mercer University in Atlanta.
A member of the Board of Directors since 2014, Tait chairs the Organizational Development Committee and serves on the Education Committees of the Board. Prior to his election to the Board, Tait served as National Expansion Chair, presidential appointee to the Executive Committee, National Trustee-at-Large, National Leadership Trainer, National Seminar Camp Committee Chair, National Training Committee Youth Liaison, and National Youth Convention Chair.
Actively involved since 1985 when his family joined the San Francisco chapter, Tait attended Interchange and Seminar programs as a youth participant, led two Village delegations, staffed a Village and Youth Meeting, directed two Villages, planned a Village, Summer Camp, and Seminar Camp, and founded the Atlanta chapter. He worked for the 1996 Centennial Olympics, the Atlanta Union Mission, and coached high school and youth wrestling. He lives with his wife and daughter in the Atlanta area.
Louise Harty
2017 term ending 2020
Louise is a senior accountant with Caliber, wealth development company located in Scottsdale, AZ.  She earned her Bachelor of Accountancy at New Mexico State University.
Elected to the board in 2017, Louise serves on the Finance and Organization Development committees.  Louise became involved in CISV in 2005 when her daughter was selected for Village. She is a former Philadelphia chapter president and Jacksonville chapter treasurer. Louise lives in Cleveland, OH with her husband Leland. They have three grown children.
Stephenie Teichman
2017 term ending 2020
As a private attorney, Stephenie has practiced law in Louisiana, Texas and California, across a broad spectrum of corporate and commercial transactions, estate planning, trusts, probate; insurance defense litigation for accountants, and directors and officers of failed financial institutions. She currently is engaged in independently contracted legal work for select clients and the State Bar of California.
Stephenie became an active volunteer in the San Francisco Bay Area Chapter of CISV shortly after her children began participating in 2007. She watched both of her children mature as they participated in a variety of offered programs. The ability of CISV to instill confidence and cultural awareness it its participants paired with its ability to develop independent thinkers and leaders of the future is what has kept her involved for the past 10 years.
In addition to her role on the Governing Board, she concurrently serves as National Risk Manager and has been an active member of her local chapter as Chapter Risk Manager, Step Up Planner and Development Officer.  She also serves as a Risk Management Regional Coordinator for the Americas, and an internationally certified Risk Management Trainer for CISV.  Stephenie hopes to grow CISV's impact in our local communities and strives to insure the safety of every traveler both here and abroad.
Mary Kate Huffman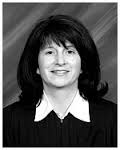 2018 Term ending 2021
Kate serves as a trial court judge on the Montgomery County Common Pleas Court in Dayton, Ohio.  She also teaches at the University of Dayton School of Law.  Kate graduated from Wright State University with a B.A. in political science, and from the University of Nevada with an M.A. in judicial studies.  She received her J.D. from the University of Dayton School of Law.
A member of the Board of Directors since 2018, Kate serves on the Organizational Development and Governance Committees.  After many years of active involvement in other local non-profit organizations, Kate recently joined CISV Miami County.  During her youth, Kate, he brother and sister were all actively involved with a variety of CISV programs.  Her mother served on the board of CISV Miami County and was an adult interchange leader.  Kate describes her CISV experience as providing the foundation for her educational decisions and her volunteer work in the community, and particularly her work with the University of Dayton School of Law Lawyer as Global Citizen initiative.