Our Vision
By 2030 we will be well-known for creating educational experiences that reach at least twice as many people as we do today. We will stand together to lead, act and inspire change in our communities to help build a more just and peaceful world.
 Chair of the Board; John C. "Christian" Warner
2019 term ending 2021
Christian Warner is a political appointee in the Obama administration, where he serves as a Special Assistant to the Secretary of Transportation. He is a graduate of the University of Wisconsin-Madison, where he was a Powers-Knapp Scholar, double majoring in Political Science and International Studies, with specific focuses in International Relations and Global Security.
A member of the Board of Directors since 2013, Christian previously served as the Junior Branch representative on the Board. Currently, he serves on the Education, Organizational Development and Finance Committees of the board. Prior to his election, Christian served one term on the National Youth Committee and was the Chair of the National Mini Camp Committee in 2012.
Christian has been actively involved with CISV from an early age, attending programs in Copenhagen, Denmark; Campinas, Brazil; San Jose, Costa Rica, Geneva, Switzerland, and Dąbrowa Górnicza, Poland. Originally from Birmingham, Michigan, Christian currently resides in Washington, D.C.
 Stephenie Teichman
2018 term ending 2020
Stephenie became a member of CISV in 2007. Since 2018, she has been a member of the Austin-San Antonio Chapter.  Prior to that, she was an active member of the San Francisco Bay Area Chapter. She has enjoyed watching both of her children mature as they participated in a variety of offered programs. The ability of CISV to instill confidence and cultural awareness it its participants paired with its ability to develop independent thinkers and leaders of the future is what has kept her involved for the past 12 years.
In addition to her role on the Governing Board, Stephenie served as National Risk Manager (2010-2019) and has served the San Francisco Bay Area Chapter as Local Risk Manager (2007-2017), Step Up Planner (2017) and Development Officer (2017-2018). She won the National Service Award in 2017. Internationally, she currently serves as a Risk Management Regional Coordinator for the Americas and is an International Risk Management Trainer.
Stephenie brings a strong background in non-profit governance, strategic planning, financial management and fundraising to the Governing Board, having served as an elected official on the Lafayette School District Governing Board (2004-2012), and as a director of the Lafayette Library and Learning Center Foundation (2013-2017).
As a private attorney, Stephenie practiced law in Louisiana, and Texas as a corporate and transactional business attorney. She also taught Business Law at St. Mary's College of California and participated in the test preparation, calibration, and admission of new bar applicants for the State of California for 20 years.
Louise Harty
2020 term ending 2023
Louise holds her Bachelor of Accountancy degree from New Mexico State University. She has worked in the accounting industry for over 30 years. and has been most inspired by her time with First Place AZ and SARRC. Most recently Louise was a senior accountant with Caliber Services in Phoenix and has chosen to return to independently contracted work.
Elected to the board in 2017, Louise has been a member of the Finance and Organization Development committees. She is currently serving as the Finance Committee Chair and Treasurer. Introduced to CISV in 2005 as a Village parent, Louise became an active member of the Philadelphia chapter, including two years as board president. After a move to Jacksonville in 2009, she immediately joined the board and served as the treasurer.  She currently lives in Las Cruces, NM with her husband Leland and they have three grown children.
Mary Kate Huffman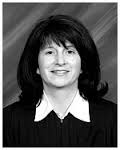 2018 Term ending 2021
Kate serves as a trial court judge on the Montgomery County Common Pleas Court in Dayton, Ohio.  She also teaches at the University of Dayton School of Law.  Kate graduated from Wright State University with a B.A. in political science, and from the University of Nevada with an M.A. in judicial studies.  She received her J.D. from the University of Dayton School of Law.  A member of the Board of Directors since 2018, Kate serves on the Organizational Development and Governance Committees.  After many years of active involvement in other local non-profit organizations, Kate recently joined CISV Miami County.  During her youth, Kate, he brother and sister were all actively involved with a variety of CISV programs.  Her mother served on the board of CISV Miami County and was an adult interchange leader.  Kate describes her CISV experience as providing the foundation for her educational decisions and her volunteer work in the community, and particularly her work with the University of Dayton School of Law Lawyer as Global Citizen initiative.
Mario Hidalgo
2019 Term ending 2021
Mario Hidalgo is a multicultural leader, working for several years in the travel industry. He holds a global position at Egencia, an Expedia Group company, overseeing the relationship with entities in 40 countries across all continents. Mario holds an MBA on International Commerce from Alma Mater university in Costa Rica.
A member of the Board of Directors since 2019, Mario is a founder member of the CISV Miami Florida Chapter; he serves as Board member of the chapter with the role of Fundraising Coordinator. He also is a certified Risk Manager and also served as Trustee.
Born and raised in Costa Rica, studied at a German school, 15 years living in the USA and working for global companies, provide Mario with a unique global perspective. He currently lives in Miami, Florida.
Hana Strickland
2019 Term ending 2021
Hana Strickland is a Senior Buyer, specializing in project management and working for several years in corporate retail. Currently, she is working for Walmart eCommerce as the Category Manager of Upholstered Furniture. Hana is a graduate of The Ohio State University, double majoring in Political Science and International Studies with a minor in Spanish.  A member of the Board of Directors since 2019, Hana previously served as the International Junior Representative of CISV International. Currently, she serves on the Education and Organizational Development Committees of the board. Prior to her term as IJR, she also served on the International Junior Branch Team, as National Junior Representative of CISV USA, one term on the National Youth Committee, and as the Local Junior Representative of the Cincinnati Chapter.  Actively involved with CISV since 2001, Hana has attended, staffed, and directed programs in Buenos Aires, Argentina; Jonkoping, Sweden; Quito, Ecuador; Cincinnati, Ohio; Columbus, Ohio; and Bogota, Colombia. Originally from Cincinnati, Ohio, Hana currently resides in New York City.
Olivia Miller Junior Board Director
2019 Term ending 2021
Olivia Miller is an Admission Counselor at Colgate University. Olivia graduated from Colgate with a major in Anthropology and a minor in Peace and Conflict studies with a focus in international cooperation.
Prior to serving as the Junior Branch Director, Olivia previously served for two years as the National Junior Representative, for one term on the National Committee for Leadership Development, and for one year as a member of the National Mini Camp Committee. Olivia has been actively involved with CISV since 2008, attending programs in Brasilia, Brazil; Berlin, Germany; Campinas, Brazil; Darmstadt, Germany; Lodz, Poland; and New York City. Originally from the New York City chapter, Olivia currently lives in Hamilton, New York.
John Lozano
2019 Term ending 2021
Mr. Lozano is currently a Resource Specialist and teacher in the Moreland School District in the Bay Area of Northern California.  He holds a Bachelor of Science degree in business administration with a minor in philosophy from Humboldt State University.  He holds a master's degree in education from Harvard University, where he focused on administration, planning and social policy.  Mr. Lozano has spent thirty years in public education, as a teacher and administrator, working in a variety of settings and with students of all income and ability levels.
He has been involved in CISV since 2013 as a leader, local leader trainer, program staff, and the San Francisco Chapter President.  Mr. Lozano enjoys the experiential learning component used during local and international activities, which make CISV a unique experience.  These experiences keep Mr. Lozano coming back for more programs as he continues to inspire more young adults.
Sean Brooks

2020 term ending 2023
Sean works for a biotech startup that has developed oncology diagnostics for companion animals. His professional experience includes general management and operations roles in the pay-TV and animal health industries and management consulting for U.S. military and private sector clients.
Sean earned his MBA with concentrations in Business Analytics and Operations Management from the University of Maryland and is a graduate of the University of Notre Dame, where he majored in Anthropology and International Peace Studies.
Sean grew up in Pennsylvania and participated in the Waterloo, Canada "Imagine" Village in 1993 through the Philadelphia Chapter. His lifelong curiosity and appreciation for learning more about people and cultures was cultivated tremendously by this experience. Sean is committed to support CISV's mission, to engage and learn from its community of dedicated volunteers and supporters, and to participate actively in shaping the future of the organization. He currently serves on the Board's Development, Organizational Development, and Finance Committees.
Sean, his wife, and their children reside in Howard County, Maryland.
Grace Vottero
2020 Term ending 2021
Grace Vottero is a Senior Project Development Officer and project manager at an international NGO, and specializes in operations, communications, business development, and creating new projects and partnerships. Grace works with governmental stakeholders, NGOs, private companies, and multilateral organizations to design and implement projects in the Middle East, Africa, South and Central America, Southeast Asia, and Eastern Europe. She has lived and worked on projects in Kabul, Afghanistan; Dubai, UAE; Kiev, Ukraine; Manila, Philippines; and Jakarta, Indonesia.
Actively involved with CISV for more than 20 years, Grace has volunteered in roles including as JB President, National Junior Representative for CISV USA, Americas' Junior Branch Team member, International Junior Branch Team member, and as international Chapter Development Committee member. She has attended CISV programmes as both participant and staff in Lisbon, Portugal; Oslo, Norway; Hamburg, Germany; Youngstown, Ohio; and Detroit, Michigan.
Grace lives in Washington, D.C.
Joleen Firek
2020 Term ending 2023
Joleen is a renowned Communications Expert with two Emmy Awards and a vast portfolio of experience.  Her areas of practice include Advertising Marketing & Media, Emerging & Advanced Global Technologies, Formal Education, and Retail Training.  She is currently involved in multiple entrepreneurial ventures, including Producer of global conferences and Managing Partner importing/distributing COVID-19 antibody tests and tailor-made brandable face masks.
Having been entrenched in CISV since a very young age, Joleen always gravitated toward news and world events and seeing others' perspectives.  She loves telling stories everyone will relate to and building collaborative teams for complex projects.  She has field produced for ABC Nightly News, created multiple TV shows for children/teens, taught/facilitated within multiple educational systems, and travelled the world for business including helping launch Lincoln in China.
After years of exposure to CISV as a girl with older siblings in exchange programs, Joleen attended Village in The Philippines, exchanged with Mexico, and was the only US participant at Seminar Camp in Portugal.  As an adult, she has always remained active within her Detroit Chapter, plus she has served multiple times on CISV's national board, previously as PR Chairperson.
Joleen gives major credit to CISV for actively shaping the way she sees the world and interacts with others.  She is honored to be on the Board during this pivotal time in history helping shape CISV's future within such a challenging pandemic.